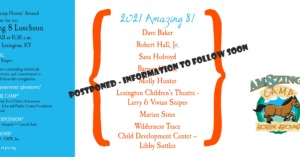 Camp Horsin' Around regrets to announce that the 2021 Amazing 8 Luncheon and Awards, scheduled for August 30, 2021 at the Lexington Marriott City Center, is POSTPONED due to the recent COVID-19 surge in Kentucky and especially our community.  We know how much the community loves coming together to support the honorees and we enjoy hosting this event year after year! We look forward to the next opportunity to welcome everyone back for this uplifting event.
__________________
The postponement was a tough decision to make. However, the CHA Board is following the recommendations of local and state officials who are closely monitoring the recent COVID-19 surge throughout Kentucky and especially in our local community.
__________________
We will honor event sponsorships and ticket purchases for when the event can be rescheduled….information to follow soon.  The Camp Out Gala remains scheduled for October 21, 2021 at the Woodford Reserve Club at Kroger Field. Thank you for your continued support, patience and understanding during this pandemic surge.