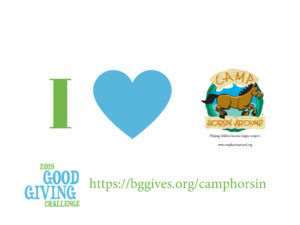 Launching on Giving Tuesday, December 3rd at 9AM, the GoodGiving Challenge connects donors with 131 local nonprofits during this week-long online giving campaign. The GoodGiving Challenge is hosted by Blue Grass Community Foundation and Smiley Pete Publishing and runs from 9 a.m. on Tuesday, December 3, to 11:59 p.m. on Monday, December 9. At BGgives.org/camphorsin donors can read about the work and goals of Camp Horsin' Around and make donations using the convenient online platform.
"Every Good Giving gift to Camp Horsin' Around (Perryville) helps us build a new accessible climbing tower and other camp improvements," shares Julie McAllister, CHA Executive Director.  "GGC dollars raised will directly fund camper activity areas and gear for the 2020 summer season, so this event will really make a difference for our health compromised and special needs campers."
Since its inception in 2011, the GoodGiving Challenge has raised $10 million total for nonprofits. Last year, the Challenge raised $1.5 million for 110 local nonprofits through more than 7,500 gifts made in 81 counties across Kentucky, 47 U.S. states, the District of Columbia, Canada and England.
With gifts starting at $10, everyone can be a philanthropist during the GoodGiving Challenge. The low minimum donation amount and the easy-to-use secure giving platform simplifies the giving process and connects donors to new philanthropic causes. In 2018, one-third of donors gave to a new nonprofit for the first time.
This year's GoodGiving Challenges features over $440,000 in matching prizes that may increase your gift by as much as 50 to 100 percent. Each day of the Challenge will offer opportunities to amplify gifts with matches and prizes, visit BGgives.org/prizes for comprehensive details.