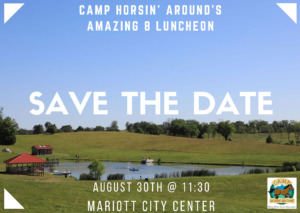 Lexington, KY – Camp Horsin' Around, a non-profit organization that provides an outdoor camp adventure for children whose health is compromised or have special needs, will honor local heroes at its annual "Amazing 8" event.
The "Amazing 8" awards and luncheon will take place Monday, August 30th, at the Lexington Marriott City Center (11:30 a.m.- 1 p.m.). Watch for ticket information in the upcoming month via Facebook and www.camphorsinaround.org.
Due to the rise in Covid-19, Camp Horsin' Around was unable to hold the annual "Amazing 8" Luncheon last summer. This year's Amazing 8 Luncheon will recognize the 2020 Amazing 8 honorees and celebrate their many community accomplishments.
The 2020 Amazing 8 honorees are: Dave Baker; Robert Hall, Jr.; Sara Holroyd; Barney and Molly Hunter; Lexington Children's Theatre – retired directors Larry & Vivian Snipes; Marian Sims; and the Wilderness Trace Child Development Center – director Libby Suttles.
These individuals and organizations represent some of the finest and most caring citizens who have dedicated their time, talents and treasure to make our community a better place.
Camp Horsin' Around: Camp Horsin' Around was created in 2002 to support organized groups to provide an outdoor camp adventure for children whose health is compromised or who have special needs. Camp Horsin' Around is located near Perryville, Ky, with 191 acres of land in Mercer and Boyle counties. The site has beautiful rolling hills, a small river and lots of space for hiking, fishing, swimming, boating, archery, and other activities for campers. Children with cancer, diabetes, asthma, kidney disease, autism, obesity, children coping with the loss of a loved one, and others benefit from our beautiful grounds, accessible facilities, and onsite clinic. Groups arrange their own participants, volunteers, and caregivers for their session and Camp Horsin' Around provides the support and activity staff, foodservice, and lodging.  Camp Horsin' Around is also available for special event bookings.
Amazing 8 Event: We are grateful to the Kentucky Children's Hospital for sponsoring the 2021 Amazing 8 event!  The Amazing 8 awards were developed in 2011 to celebrate the impact of exceptional volunteers in our community, especially those whose efforts have improved the lives of children who are health compromised or who have special needs. This event also serves Camp Horsin' Around campers by raising awareness of our mission and our services, raising some much-needed funds for our programs, and uplifts all participants with the great work being done for health compromised and special needs children in our communities.